The MetaMapper visual editor makes it easy to generate images which look like real screenshots of retro operating systems. The MetaMapper provides presets which can be selected and used for customizing retro desktops. Images can be uploaded, texts can be edited and then the finished retro looking image can be downloaded. By using the original fonts of the certain OS it makes it more realistic. The MetaMapper is totally free to use. The following operating systems are already defined as presets in MetaMapper Editor. If you have any suggestions/problems/issues mail to: meta-mapper@outlook.com.
Generating Windows95 / Windows98 Themes
See me other blog post about generating beautiful Win95 Themes
BeOs Themes Generator
Generate BeOS Themes with meta-mapper.com. You can use a simple BeOS text generator, to insert text you like.
BeOS Browser Theme Generator
A BeOS Browser-Theme helps you creating a BeOS look alike theme in a rush. Just open one of the following presets to generate a editable view. By using the meta-mapper.com it's really easy to generate a customized themed for your needs. Just try one of the following themes:
BeOS Simple and editable UI
A BeOS theme which can be edited.
Open the BeOs UI Template here.
BeOS Error Theme Generator
Generate a simple Error Message by using the meta-mapper BeOS genrator. Nice looking old school UI look an feel with meta-mapper.com editor
Get the BeOS font here
The fonts which were used for BeOS are the following:
OS/2
meta-mapper.com makes it also possible to generate themes for the popular OS/2 by IBM. By selecting on of the following themes, you will also be able to customize it as you need it. Changing fonts or images, it's super easy to use. Download it and share it with the world.
A OS/2 text editor theme
Easy editor preset which can be customized. A OS/2 retro looking text editor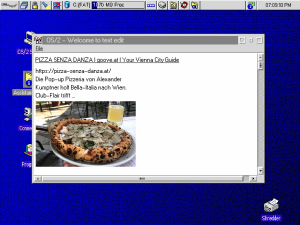 Open the OS/2 editor preset here
Windows 3, Windows 3.1 theme generator
Generating Windows 3 and Windows 3.1 themes. Generating a Windows 3 looking theme just by using this editor. Windows 3.0 was released 1991. You can easily create themes which do look like a real Windows 3 desktop. Creating error messages or text editor designs.
Windows 3.0 Texteditor Preset
windows 3.0 generated text editor preset can be opened her
Preview of provided themes can be found here: